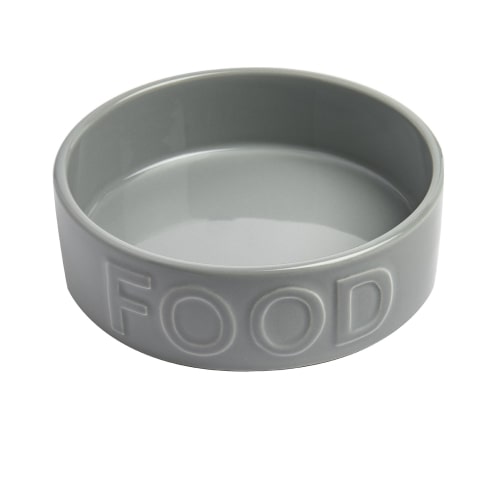 Feed your furry pals with style
The "FOOD" pattern pet bowl is a decorative, designer dish dressed in pale gray. Each premium-quality pet bowl is crafted from heavyweight, chip-resistant ceramic that stands strong against slippage and spills.
Food bowl features
Medium sized water bowl for your pets
Stops slippage and spills
Heavyweight stoneware is sturdy, strong, and chew proof to stop spills, slipping, sliding, and tipping.
Vibrant visual design
Vivid, glossy exterior blends your pet's personality with your home's existing decor.
Durable and easy to clean
Crafted from 100% FDA approved ceramic; dishwasher and microwave safe.
Perfect for all pets
Multi-use pet bowl perfect for cats, dogs, rabbits, reptiles, and all other animal companions.
A durable food bowl for your easement
Its durable, chew-proof stoneware is 100% dishwasher- and microwave-safe. Bold, block letter embossing bestows subtle sophistication. Medium: 2" high with a 6.25" diameter. This bowl has a 2 ¾ cup capacity.