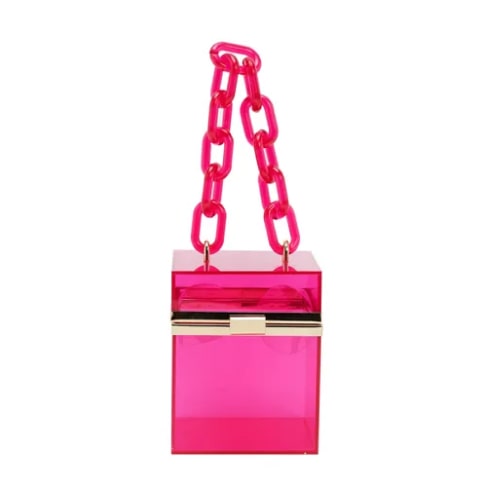 Classy Edgy Box Clutch With Chain
Unique and stylish clutch designed to impress
Are you used to impressing people around you with your stylish look? If so, this Classy Edgy Box Clutch With Chain is a must-have accessory for you! This bag can boast a unique design, high-quality components, durability, etc. Make all the passers-by impressed with this one-of-a-kind stylish bag all the others will definitely dream of!
The one you've been dreaming of
Classy Edgy Box Clutch With Chain
Unique & classy look
Are you fond of clothes and accessories that look really unique and classy? In this case, this clutch is exactly what you're looking for: it has a one-of-a-kind and bright design!
Well-thought-out size
Each accessory is supposed to be not only stylish but also convenient to use. This is exactly what this clutch is able to boast: due to its well-thought-out size, you will be surprised that you've not found it before! Dimensions: 4" W x 5 1/8" H x 4" D.
Design with a chain handle
It's extremely difficult to create a bag handle that will look perfectly. But this one is different: due to a bright chain handle, this clutch looks really cool.
Clean silhouette
The cute clean silhouette makes this bag a fashionable accessory no one will remain indifferent to.
Perfect present
If you have that special somebody in your life that you would like to show your appreciation to with a special gift, get this stylish clutch! Its unique and classy design will definitely impress any woman.