Rustic flair + beauty
Jute and natural wood come together in this 100% natural, handcrafted Jhuri Double Hanging Basket that can hold plants, flowers, and knicknacks alike.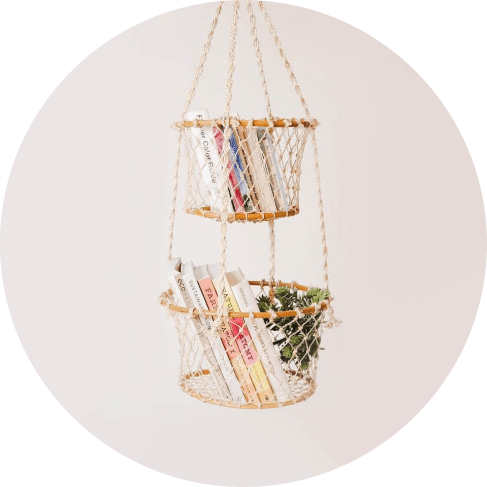 A versatile decorative piece
Sized for greatness
Our top basket measures 9" round at the top and 7" round at the bottom; the lower basket is 11" round at the top and 9" round at the bottom. Create a tiered look to your plants easily.
Luxe beach feels
Our bucket-like design has side netting, a sturdy ringed top and bottom, and generous hanging rope. It has an island, tropical-like flair to it.
Spruce up your place
From backyard to bedroom, there's a home for this exquisite hanging basket. Fit in your favorite hanging plants or use it as a chic storage space for your hats and scarves.
Made with love
Each basket is handmade by a talented artist from a fair-trade community in Bangladesh, sourced and vetted by the Korissa brand.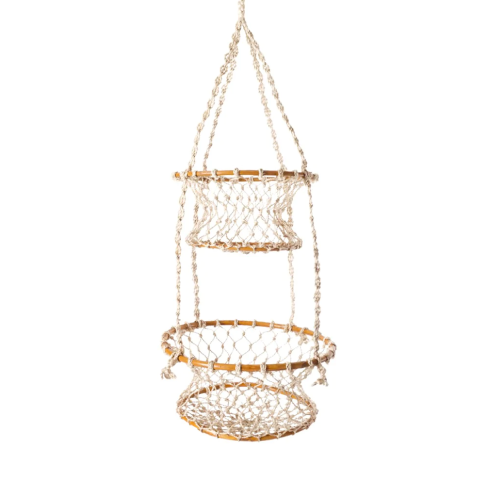 The gift of style
New home or apartment owners will love the convenience and function of this two-tiered basket.
Go-green and good
All materials used in our baskets are ethically sourced with 100% natural materials that don't leave an eco footprint.
Inspired by heritage (and responsibly made)
Each Korissa creation is environmentally- and socially-responsible, with materials that are locally-sourced and crafted by artisans who are paid fairly in safe creative communities. Each item brings cultural flair from its region of origin into your home or office.
About KORISSA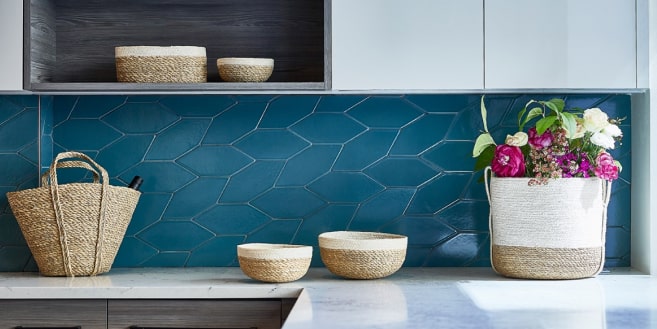 Nora and Angela, two designer moms from New York City, created Korissa to inspire consumers to shop consciously. They wanted to provide high-quality products that are socially and environmentally responsible. Purchasing any of the unique amazing handcrafted products supports and benefits artisans in low-income communities. Fair wages ensure that education and health care are available.