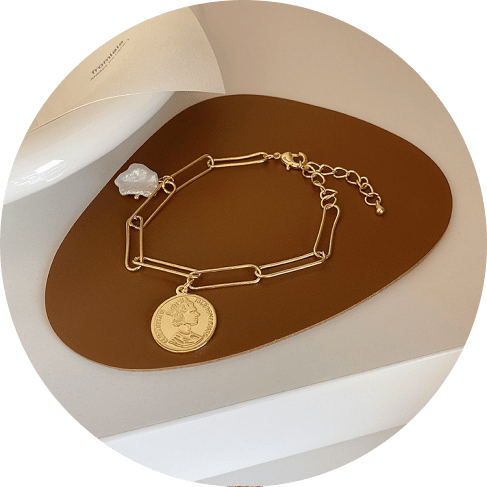 Beautiful vintage bracelet
One-of-a-kind piece of jewellery
Looking for a bracelet that would go well with your classic dresses and business suits? This chic gypsy-inspired bracelet will look good with many outfits, all the while highlighting your fashion sense and confidence. Perfect for any occasion, this bracelet will grab everyone's attention and hit all the right notes, no matter the circumstances.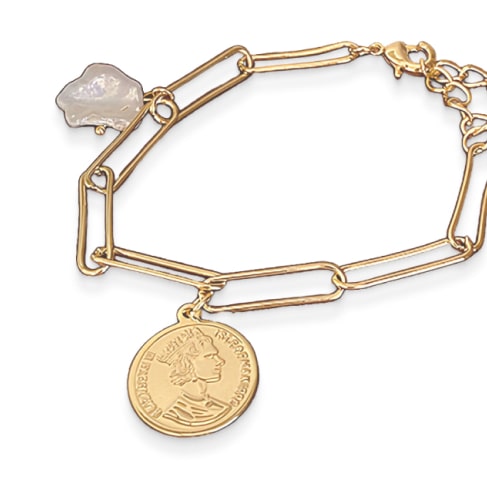 Easy to clean and store
Wipe the bracelet with soft wet tissue, let it dry, and you are good to go. Do not use abrasive cleaning products. Keep away from prolonged exposure to moisture, heat, and chemicals. Handle with care. Store separately in a cool dark place.
Made with great attention to detail
Our long-time priority is to make sure that our customers are happy with our products. Try this incredible piece of jewellery and see for yourself. Jewelry materials: brass. Shape: a round bracelet with a coin and a pearl-imitation bead. Color: golden.
A well-thought gift
Timeless things appeal to everyone and what could be more timeless than a bracelet with a vintage coin and a pearl-like bead? Pearls symbolize perfection, purity, and love, while a coin stands for memory and longevity. An expressive gift for any occasion: engagement, wedding or birthday, this bracelet will convey your affection in a convincing and memorable way.