It's a touch of nature in the air
Add a burst of greenery to your front porch, backyard, or day room with our beautiful Self-Watering Hanging Flower Pot. It's the modern way to get in touch with nature.
Want clutter-free plants or flowers in your space?
We've got just the solution.
Hang with nature
Our flower pot hangs onto any ceiling support or porch beam with an included nylon hanging cord. Set up easily wherever you need a touch of green.
Watch your plant grow on its own
The dual-layer design of our flower pot allows nylon wicks from the inner pot to deliver water from the bottom stoneware pot to the roots of your plant.
Enjoy premium Danish craftsmanship
Our Self-Watering Hanging Flower Pot is built from stoneware, leather, and plastic for a self-sufficient, blossoming wonder anywhere you need it.
Rehydrate with ease
Water low? Simply refill via the watering channel on the inner plastic pot. It's convenient -- without a dripping mess or leaks either.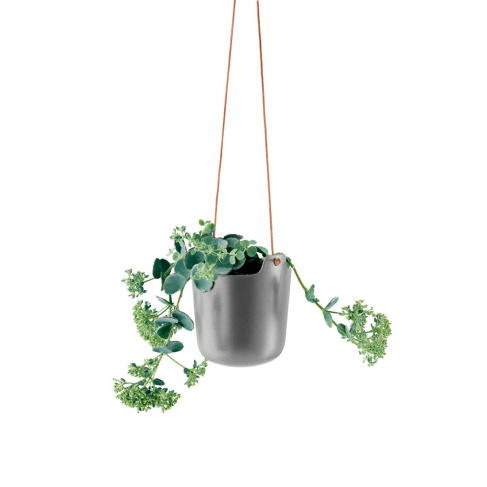 Great for college-bound teens
Let your son or daughter add some of the outdoors to his or her dorm or apartment with this modern, sleek hanging flower pot.
Loved by housewives and decorators
Imagine the possibilities, from breakfast nook to backyard porch. Add a touch of green wherever you envision for your interiors.
Highly-rated by gardeners
Got a greenthumb? Join the hundreds of others who also do -- and love the dynamic abilities of our hanging flower pot.
Less work for you.
Because this flower pot does it all
All you need to do is add water upon initial installation of your plant and its seeds or roots. As time goes on, all you need to do is check on the water refill when needed. Otherwise, for the majority of time, your plant will be drinking predeposited water on its own and growing -- all with minimal maintenance from you. It's the best way to grow a plant or flower without added hassle.